Barcelona 5-1 Levante: Highway to the Cup semi-finals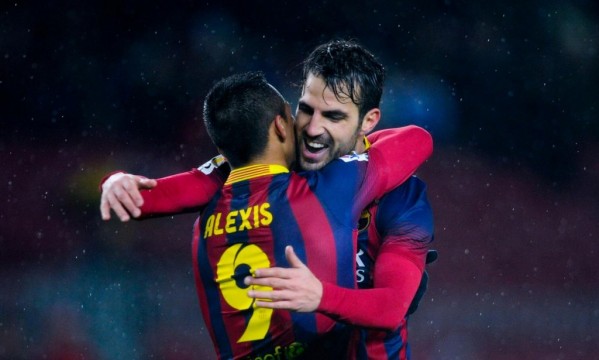 Full-time: Barcelona 5-1 Levante
Goals: Adriano (28′), Puyol (44′), Alexis Sanchez (50′, 52′), Cesc Fabregas (68′)
Match date: January 29, 2014
Stadium: Camp Nou
Competition: Copa del Rey
Barcelona line-up: Pinto, Adriano, Puyol, Bartra, Song, Sergi Roberto, Iniesta, Alexis Sánchez, Cesc Fabregas, Cristian Tello.
Barcelona are through to the Copa del Rey semi-finals, after beating Levante by 5-1 in the Camp Nou and completing a 9-2 aggregate win. With Lionel Messi being given a full game rest and Neymar is still recovering from his ankle injury, it was up to their teammates to step up.
Just like in the first leg, the opener was surprisingly scored by visitors and as seen in many occasions this season, it all came down from a corner-kick. In Barça's defense, the goal was quite unfortunate since an apparently harmless header from a Levante player ended up hitting Sergi Roberto's body and going past Pinto. Barcelona was trailing by one still inside the first 10 minutes, but there was no reason to panic since the 1-4 win in the first leg was more than a safe cushion.
The reaction came from the left full-back Adriano, who surprised Levante's goalkeeper with a terrific shot from well outside the box. The Brazilian curled the ball into the far post and equalized a game that Barça was most likely going to win. The 2-1 came from the team's captain head, Carles Puyol, who rose high in the air to send a bullet into the back of the net. It's Puyol's first goal this season…
The 3-1 was reserved for the second half and it would be Alexis Sánchez scoring it. The Chile international was on the right spot to tap-in a good assist from Montoya and certainly scored one of the easiest goals of his career. The 4-1 arrived almost immediately after, this time from a rebound coming off an Adriano shot that hit the woodwork, leaving Alexis with another easy task to simply push the ball into an empty net. Levante was only wishing the game would come to an end, but that wouldn't happen without Barça still reaching their 5th goal of the night. Cesc Fabregas was the architect of the last goal this Wednesday night, after beating the visitors' goalkeeper with a left-foot strike when he was already inside the box.
Barcelona will now have to face either Real Sociedad or Racing Santander in the Copa del Rey semi-finals, as both teams will play each other this Thursday night to decide who also goes through.
Sources: fcbarcelona.com / goal.com
Watch the highlights video from Barcelona 5-1 Levante match:
Barcelona match photos against Levante:
About The Author
Related posts