Neymar and Cavani – A battle of egos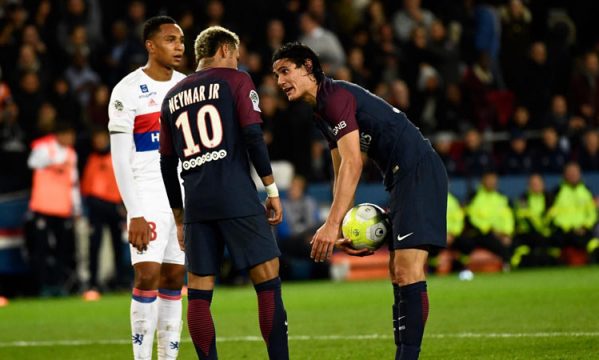 Since he joined PSG this summer, Neymar has definitely been leaving his mark in the club in multiple different ways. With 5 goals scored in his first 6 appearances for French capital club, the Brazilian took the French league by storm and made the impact many had expected he would. The 222 million euros Paris-Saint Germain paid Barcelona in order to sign Neymar are the kind of money one could only win in InstaCasino, but surprisingly or not, this huge sum doesn't seem to be affecting negatively the Brazilian superstar and his performances on the pitch have been nothing else but top tier.
However, not everything has been a bed of roses… Following Neymar's arrival to Paris, another rising star in France made his way to the "Parisian" club. Kylian MbappĂ© left AS Monaco to join PSG this August and was set to play along with Neymar and Cavani in the attack of Unay Emery's side. The Frenchman, known for his low-profile personality, isn't likely to get into conflicts with any of his teammates. The same can't be said about Neymar though…
It was this last Sunday that first unpleasant episodes came to public and they all happened in front of everyone. PSG was hosting Olympique Lyon for another fixture in the French league and was struggling to dominate their opponents as they've done in their first games this season. The typical showdown from Neymar and company gradually transformed into frustration signs which kept piling up as the clock ticked. The French vice-champions would eventually secure a 2-0 win thanks to two own goals from Olympique Lyon, but not before a couple altercations involving Neymar and Edison Cavani came to surface at the Parc des Princes…
The first disagreement occurred when a set-piece was awarded to PSG. Edison Cavani, the usual player in charge of these type of taking these free-kicks, saw Daniel Alves (another Brazilian who joined the club this summer), taking the ball from him and discretly handing it to Neymar so he could try his luck from distance. The whole incident was childish and reveals a dangerous level of immaturity and disrespect from new players at the club (Daniel Alves and Neymar in this case), towards others who have been defending PSG colors for the past 4 years.
As if that incident alone was enough, it happened again moments later when PSG earned a penalty-kick around the 79th minute. With a 1-goal lead in their advantage, the atmosphere between Cavani and Neymar was still tense and once again, the two players exchanged a few words when Cavani stepped up to convert the penalty. The Uruguayan denied Neymar's intents of taking the pen and would eventually miss it…
It all ended well for now because PSG grabbed the 3 points, but there are clear signs that there's a battle of egos going in Paris right now and it's only a matter of time until it explodes into more serious issues in the club. The manager, Unay Emery, prefers not get in the middle of his two players in the time being, but the truth is that if he doesn't let himself be heard, he might lose control of the situation.
Sources: cbssports.com / espnfc.com
About The Author
Related posts