Neymar keeping his eyes on the prize during injury recovery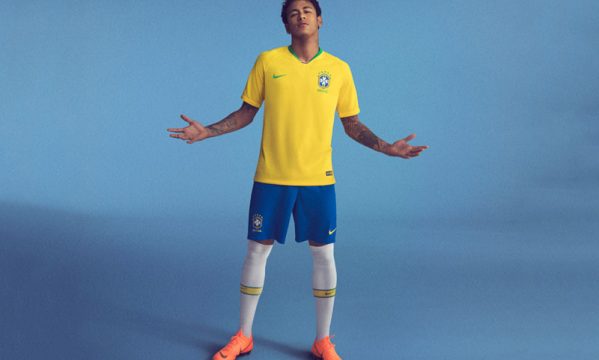 After suffering a fractured metatarsal in the February 25th Ligue 1 match against Marseille, many believed it was not only a frustrating end to Neymar's season at Paris Saint Germain but also a potentially devastating blow to Brazil's chances of winning the 2018 FIFA World Cup in Russia. It certainly proved a blow to the French club's chances of progress in the Champions League, when they were knocked out of the competition by Real Madrid.
Initial reports suggested that Neymar would be out of action for two to three months after Brazil's national team doctor successfully performed surgery on the superstar's injured foot at the start of March. By the end of the same month, PSG manager Unai Emery hinted the 26-year-old player could be back in action for his club before the end of the domestic campaign.
Meanwhile, Neymar has been regularly posting updates via his official Instagram account, which has a massive 91.8 million followers around the world. One of the more recent photos posted was of him receiving ultrasound treatment and, while his body was occupied, so was his mind, as Neymar has been enjoying listening to music from Drake and playing online poker to keep himself amused. What's more, the images showed him playing in three different games at the same time, such is his flair for having a flutter at the tables.
Poker and slots are just some of over 1,000 games and two good reasons why I play at Dunder. No doubt Neymar too is selective when choosing where to enjoy his favourite games, keeping his eyes on the prize in more ways than one during his injury recovery. Getting fit for the World Cup is clearly his number one objective, but it's evident he also likes counting his casino winnings.
Undoubtedly, PSG will be delighted to welcome Neymar back to action, should his injury recovery make him available before the end of the season. According to whoscored.com statistics, he remains by far the best player in the team, registering an 8.95 average match rating with 19 goals and 13 assists prior to getting injured. Not even Kylian Mbappé has come close to those numbers, with the 19-year-old French forward registering a 7.78 average match rating, while scoring 13 goals and providing 8 assists.
Even though he's such an important player at PSG, rumours and speculation persist surrounding another blockbuster move in the summer, after the World Cup, with Real Madrid continually linked to chasing the Brazilian's hugely sought-after signature. However, they're not the only club interested, with reports in both Spain and England claiming a bid from Manchester United might also be possible, valued at over €200 million plus Paul Pogba in exchange.
Whatever happens after the World Cup, the focus right now for Neymar is making sure he's available for Brazil at the tournament, as they remain one of the favourites to lift the famous trophy. We can't wait to stream his performance at the 2018 World Cup! Beyond that, we could be in for another long summer of transfer rumours surrounding one of the biggest names in football.
Sources: dailymail.co.uk / whoscored.com
About The Author
Related posts