Neymar makes the cut for the 2016 Ballon d'Or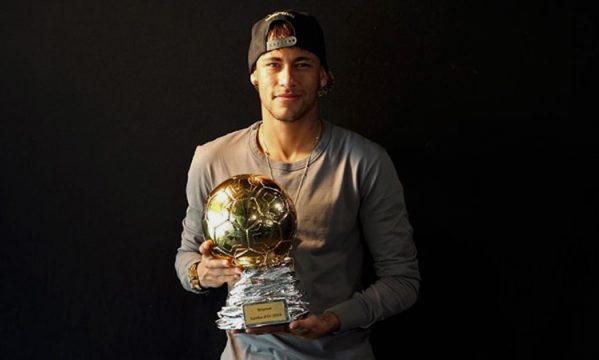 Neymar is on the run for the 2016 Ballon d'Or award, after seeing his name in France Football's final list.
The 30-list names was revealed this Monday and the club more represented is Real Madrid with 6 players (20%). The European Champions will deposit their hopes in Cristiano Ronaldo, Gareth Bale, Kroos, Modric, Pepe and Sergio Ramos.
Right behind the Merengues comes Barcelona and Bayern Munich, both clubs having 4 players each featuring in this list.
Barça will have Lionel Messi, Neymar, Iniesta and Luis Suárez trying to win this prestigious award, while Bayern Munich will have to rely on Lewandowski , Muller, Neuer and Vidal.
Here is full list on a club breakdown level:
1. Real Madrid: Cristiano Ronaldo, Bale, Kroos, Modric, Pepe, Ramos
2. Barcelona: Iniesta, Messi, Suárez, Neymar
3. Bayern Munich: Lewandowski, Muller, Neuer, Vidal
4. Atletico Madrid: GodĂ­n, Griezmann, Koke,
5. Juventus: Buffon, Dybala, HiguaĂ­n
6. Manchester City: Aguero, De Bruyne
7. Leicester City: Vardy, Mahrez
8. Dortmund: Aubameyang
9. Tottenham: Lloris
10. West Ham: Payet
11. Sporting: Rui PatrĂ­cio
This new and revamped France Football Ballon d'Or marks the break-up between the French magazine and FIFA, who have been handing a co-joint award since 2010. The rules have also changed substantially and unlike what happened in previous years, this time only international journalists will vote for the best player in the world. National Team coaches and captains will no longer have a say in the voting.
The shortlist also changed from a 23-name list into a 30-name list and we won't hear the names of the 3 most voted players until the award is delivered. As for the ceremony date, it will go down somewhere in December, and not in January of the year after, like FIFA had the habit of doing. Got any favorite already? Our guess is that we could be seeing a surprise, even though Neymar chances are still extremely low unfortunately…
In the meantime and while we get near to the decisive date, here's a very entertaining quizz from Paddy Power Premier League Odds for the most avid football fans.
Sources: espnfc.com / fcbarcelona.com
About The Author
Related posts