Neymar crying following an emotional Brazil National Anthem against Mexico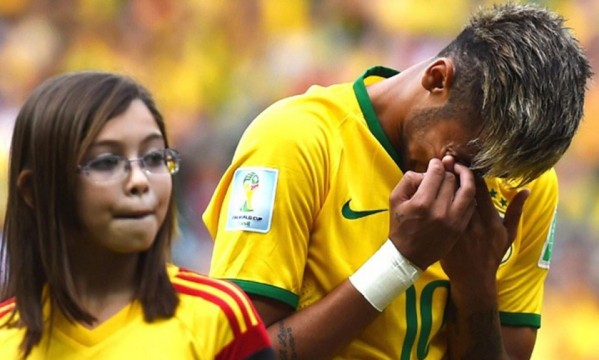 Yesterday's game between Brazil and Mexico brought us a quite priceless moment in the moments ahead of its kickoff. During the usual and protocol National Anthems singing for both teams, the hosts received what can call a true adrenaline injection from the crowd.
Not every nation has the fortune to have an anthem that allows them to get emotional, but that's surely not the case with Brazil. Moreover, hosting a tournament as big as the World Cup at home somehow must have lightened them up even more. Emotions clearly took over most of the Brazilian people watching that moment and one of the most affected players we clearly Neymar Jr, who simply couldn't hold on to his tears and ended up crying at the end of the Brazilian National Anthem.
As you'll be able to watch on the video we're delivering below, the protocol Brazilian National Anthem lasted close to 65 seconds, a period after which the music/melody on the background stops but with the players and fans in the stands still singing. It's an additional 30-seconds period without any music playing behind and where every Brazilian around doesn't cease to sing. In Brazil, they call this "version" of their hymn the "Brazilian National Anthem à capela".
This intense way of chanting the Brazilian National Anthem "à capela" started happening in 2011 in a game between Brazil and Argentina, but it only became really popular last year, during the Confederations Cup which also hosted in Brazil.
Brazil's next game in the 2014 FIFA World Cup will be against Cameroon, on June 23. Even though a draw might be enough to earn the "Escrete" a ticket to the last-16 stage, a win might be necessary to deliver them the 1st place in the group. Did you know you can bet this game for free by visiting Centsports.com. This Cameroon vs Brazil game kicks off at 5PM in Brazília, at the Estádio Nacional. In the meanwhile, all eyes will be set on Rio de Janeiro and in the Maracanã, with an exciting Spain vs Chile taking place this Wednesday evening.
Watch the Brazilian National Anthem "à capela" vs Mexico and Neymar crying:
Sources: uol.com.br / opovo.com.br
About The Author
Related posts