Barcelona 3-0 Elche: The old Messi is back!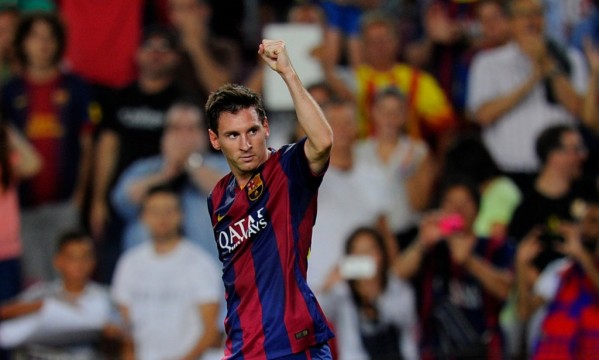 Full-time: Barcelona 3-0 Elche
Goals: Messi¬†(42′, 63′), Munir (46′)
Match date: August 24, 2014
Stadium: Camp Nou
Competition: La Liga
Barcelona line-up: Bravo, Daniel Alves, Mascherano, Mathieu, Jordi Alba, Busquets, Rakitic, Iniesta, Rafinha, Munir, Lionel Messi.
Barcelona has kicked off their La Liga campaign in the best possible way, after hosting and defeating Elche CF by a clear 3-0. Neymar ended up missing the game after having sprained his ankle earlier this week in a team practice and it was Lionel Messi who naturally drew all the spotlight to himself.
The Argentine star made his debut in La Liga with two goals and a quite promising individual performance that allows the fans to think that his best version might very well be back. Not only he scored a brace, but he has also been very active and involved in the team's attacking plays, something in which he has struggled at over the past few months.
The fans at the Camp Nou got to see the opener around the 42nd minute of the first half, when the visitors lost a ball on a very dangerous area, allowing for Barça to immediately create danger from there. Busquets was the one intercepting the pass and he immediately sent it over to Lionel Messi, who was just a few meters in front of him. The Argentina international got rid of a couple defenders without having to sweat much and then struck the ball low to the far post, sending Barcelona to the lead still before half-time.
The 2-0 came shortly after the game had resumed for the second half. The goalscorer was the debutant Munir El Haddadi Mohamed, a 18-year old forward that had the chance to play his first game for Barcelona's first team as a starter. The Moroccan descendant managed to escape Elche's offside trap and benefited from a slight deflection on an opponent's head when Rakitic assisted him with a great pass. Munir kept his cool and with a nifty finishing touch he beat Elche's goalkeeper and extended Barça's lead to 2 goals. Certainly a dream start for Munir, who probably won't have many more chances to play later this season, when both Neymar and Luis Suárez find themselves fit to give their contribution.
The final score was set in the 63rd minute and once again, it was Lionel Messi making all the difference. The 27-year old picked up a pass from Daniel Alves when he was already standing inside Elche's box, was lucky enough to keep the possession after a rebound and then simply found the space he needed to curl the ball into the far post. That was a classic Messi goal, where he basically seems to outplay everyone around him with very little effort.
With this Sunday's 3-0 win, Barcelona are now temporarily leading La Liga's standings, as they patiently wait the outcome of the Real Madrid vs Cordoba game, as well as Atletico Madrid's visit to Rayo Vallecano. Both matches will take place later this Monday, roughly at the same time as the Manchester City vs Liverpool clash in England, for the Barclays English Premier League.
Sources: fcbarcelona.com / ronaldo7.net / theguardian.com
Watch the highlights video from Barcelona 3-0 Elche match:
Barcelona match photos against Elche:
About The Author
Related posts