Japan 0-4 Brazil: Neymar scores his first poker of goals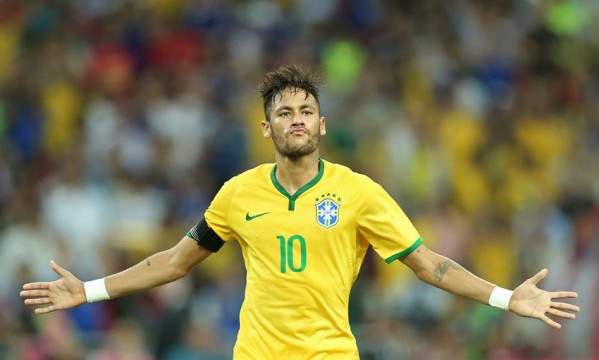 Full-time: Japan 0-4 Brazil
Goals: Neymar¬†(18′, 48′, 77′, 81′)
Match date: October 14, 2014
Stadium: Singapore National Stadium
Competition: Friendly International
Brazil line-up: Jefferson, Danilo, Miranda, Gil, Filipe Luis, Elias, Luiz Gustavo, Willian, Oscar, Neymar, Diego Tardelli.
For the first time in his career, Neymar scored a poker of goals while playing¬†for¬†Brazil. The 22-year old¬†led his nation to another win this Tuesday morning, as the "Escrete" ran over Japan in Singapore, with a clear 4-0 win…
The opener was scored around the 18th minute of the first half, after a great assist from Diego Tardelli allowed Neymar to go 1-on-1 with the Japanese goalkeeper. The 22-year old forward ran past the goallie with ease and then hit the ball into the back of the net to put Brazil on the driving seat.
Half-time came in with Brazil preserving their 1-goal advantage, but it only took them 3 minutes after the break to extend the lead. Just like in the previous goal, Neymar found himself with only the goalkeeper in front of him and this time, instead of going around him he simply struck the ball past him with class. The assist was delivered by¬†Liverpool's midfielder, Philippe Coutinho, who had came in for √ďscar at half-time.
The 3-0 arrived in the 77th minute, when a first shot by Coutinho ended up forcing Japan's goalkeeper to block it and send the ball bouncing a few meters in front, which allowed Neymar to react fast and score from the rebound through a left-foot strike. The Barcelona superstar was visibly happy and celebrated his hat-trick by pretending he was playing basketball and had just made a 3-point throw.
There was still one last goal left in this game and once again, it would be Neymar striking the final blow for Brazil. The 22-year old forward finished off a great attacking play initiated by Robinho and Kaká, heading a perfect cross from the former Real Madrid player and establishing the final score in 4-0 to Brazil. With today's poker, Neymar has now 40 goals in 58 appearances for Brazil, as he gets closer and closer to Pelé's 77-goal record (in 92 games).
Sources: bbc.com
Watch the highlights video from Japan 0-4 Brazil match:
Brazil and Neymar match photos against Japan:
About The Author
Related posts