What went wrong with Neymar season?
We're getting closer to the finish line in pretty much every European competition this season and it seems to us it's a great opportunity to review what happened in this football campaign. In France, in particular, the league's fate has been decided a long time ago, as PSG didn't find any rivals to fight for the title. In the French cup however, Neymar and his teammates struggled against Rennes in the final game and ended up losing the cup in a surprising fashion.
But let's not jump straight to the end and let's start by rewinding the tape a few months, back to the beginning of the season. Just like in previous years, PSG promised a lot in the first half of the season and they were basically wiping the floor with every opponent they were facing. Neymar, Mbappé and Cavani were destroying defences they were put against week in and week out and all sports betting online bookmakers were rating PSG as one of the main favorites to win the UEFA Champions League.
Neymar in particular was in great form and by the end of January, the Brazilian superstar had already scored 13 league goals (in 14 appearances) and was one of the Champions League's top scorers, with 5 goals in 6 games played in the group stages. However, everything would start succumbing on January 23, when Neymar got injured in a game against Strasbourg.
It was probably one of the worst timings to pick up an injury, since PSG was about to clash against Manchester United in the Champions League round-of-16. The former Barcelona forward was unable to give his contribution against the Red Devils and PSG ended up being eliminated after a shocking 1-3 loss in Paris. It was a defeat very hard to digest, especially since the French champions had put a lot of hopes in going far in the Champions League this season…
Neymar's injury kept him off the pitch until April 21, precisely in the game where PSG mathematically won the French league title, in a 3-1 win over AS Monaco. Mbapp√© scored an hat-trick, but Neymar was thrilled to return to action still in time to at least play in the French cup final a few days later…
On April 27, PSG and Rennes locked horns at the Stade de France in Paris, in the French Cup final. And with a title on the line, everything can happen! PSG were the dominant side in almost every moment of the game, but their opponents resisted the pressure and managed to take the game into a dangerous penalty shootout. It's almost as if PSG wasn't meant to win the cup and Rennes were fortunate enough to beat the French giants in a dramatic 6-5 win.
Neymar, visibly frustrated with the outcome of the game, lost his head when he was preparing to collect his medal in the stands and punched a fan that was insulting and filming him with his phone. The Brazilian star should have kept his cool and his mistake will probably lead to a heavy punishment that will carry through into the beginning of next season…
Sources: france24.com / eurosport.co.uk / bbc.co.uk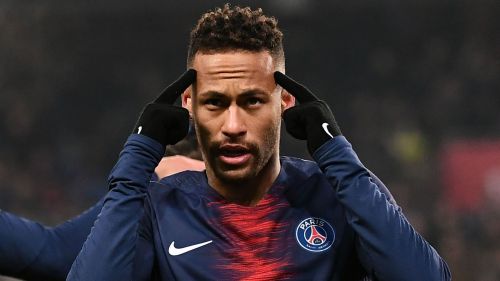 About The Author
Related posts