Should Neymar gain weight to become more decisive in Europe?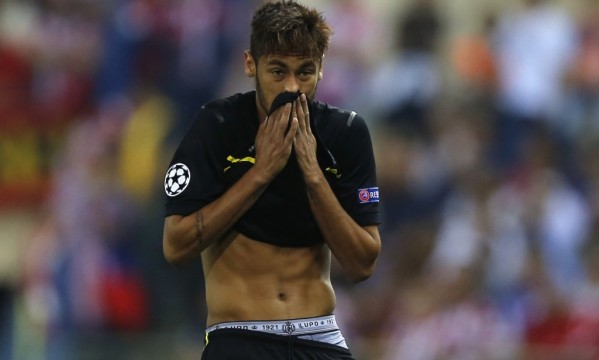 When Barcelona announced their signing of Neymar in June of 2013, it didn't take too long for reports to start coming out about¬†the club demanding the Brazilian star to¬†add¬†a few extra pounds to his weight. Judging from the transformation (or lack of it) we've seen him taking during his first season in Spain, it seems only fair to assume that the idea wasn't taken very¬†seriously for now…
Neymar, who is reportedly weighing 65kg (143.3 lbs), has switched from the less disciplined and anarchic South American football to the more physical and demanding European pitches over the last summer. As many pundits had already predicted, the change of football paradigms wasn't going to be smooth and shortly after arriving to Spain the former Santos forward started tasted the different level of roughness and marking that we have in the most competitive leagues in Europe. La Liga is definitely not an exception on that matter and even though it's true that the talent and technique may have allowed Neymar to dodge many of the tackles, pushing and overall aggressiveness from defenders in his first year, it's also fair to observe that a player of his caliber was far from fulling his potential.
However, it's not like it was expected for Neymar to outshine Lionel Messi and all his other teammates in the first season he has played for FC Barcelona. As the 22-year old forward insisted in pointing out last year, he was coming to the club with the intent of winning trophies but also helping Messi extending his reign as the best football player in the World. One year has passed and none of those goals was exactly obtained, since not only Cristiano Ronaldo won the FIFA Ballon d'Or 2013 last January, but Barça has also failed to get their hands into any silverware after a very disappointing season.
Looking at Neymar's season from a strictly individual point of view, his stats and numbers don't actually look that bad at all given that it was indeed his first season on a different continent, country, league and team. The Brazil international finished the football club season with 41 appearances and 15 goals for Barcelona, standing miles away from Messi's 41 goals in 46 games and Cristiano Ronaldo's 51 goals in 47 games. With Barça having already appointed Luis Enrique as the new coach for the next season, how much can we expect Neymar's role to change in the team? Is gaining weight really an important factor for him to improve his performances in the future?
We've seen numerous cases in the past from players who despite starting their professional football careers as skinny little boys, they managed to grow up into really buffed and strong athletes. The prime example of such a body transformation occurred with Cristiano Ronaldo, but we can also look at other sports like the NFL and see how athletes can really improve their games when they become stronger. You can check the odds for the favorites teams to win the Superbowl next season on allpro.eu. Neymar may not have the goal of joining the NFL in his sight, but he sure would benefit one thing or two if he could start working on getting a body a bit more similar to a football running back. In any case, it might be hard for any weight gaining plan to take place in the few weeks and months we have ahead.
The 2014 FIFA World Cup (from June 12 to July 13) will kick off in 18 days and Neymar will be one of the main flagships of Brazil in the tournament, where he hopes to have a lot more influence than he had in Barcelona this season. The opening match will put Brazil face to face against Croatia in São Paulo, on June 12.
Sources: bbc.com / ronaldo7.net / goal.com /allpro.eu / dailymail.co.uk
About The Author
Related posts