Roberto Carlos: "Neymar is better than Messi and Ronaldo"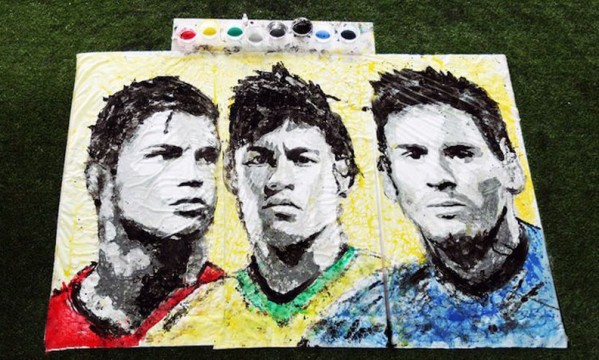 In a recent talk with the media, the former Brazilian and Real Madrid left-back shared his opinion on who he believes to be the best player in the world. The 42-year old has a slightly different opinion than most of the people out there and instead of narrowing his choice into either Barcelona's Lionel Messi or Real Madrid's Cristiano Ronaldo, he extended his options by picking his countryman Neymar as the biggest talent in the game these days.
Roberto Carlos: "Everyone is always talking about the same two guys, Messi and Ronaldo, but in my mind the best player out there is actually Neymar. I think that he shows a lot more of his football here in Barcelona than he does when he's playing for the Brazilian National Team, quite simply because he already has a very solid, organized and experienced team here. Brazil is still in the process of building a good team for the 2016 Copa America", pointed out the current manager of the Indian club Delhi Dynamos.
Even though it's been quite clear that Neymar has been performing a lot better when he's in Barcelona compared to when he plays for Brazil, we can't exactly say that he's been doing that bad when he represents the "Escrete". Since his debut for the senior Brazilian National Team back in 2010, Neymar has already scored in 46 occasions out of 67 caps, resulting in a 69% goal scoring ratio. His arrival to Barcelona in 2013 has earned him 94 appearances and 55 goals so far, leading up to a 59% goal scoring ratio. If we were to give any sports betting tips however, we'd say his goal scoring ratio in Barça will most likely improve very soon. His contribution level can't be measure only on goals though, but this was just a quick fact that helps clarifying he hasn't exactly been playing that bad for Brazil.
Roberto Carlos: "Neymar is more Neymar here in Barcelona because being the leader in a national team like Brazil is just too much pressure for a personal like him. He also feels a lot more comfortable in Barça with the likes of Messi and Suárez next to him", remarked the 2002 Ballon d'Or runner-up.
The Brazilian manager then also looked at the Madrid-Barça rivalry and talked a bit about we've all seen so far this season.
Roberto Carlos: "I see Real Madrid on the right path now. We're still in the beginning of the season and people can't feel tempted to start judging them so early. They're playing well and we should wait a bit longer to see how things play out. In a league lika La Liga a lot can happen in a short span of time. Right now it's Barcelona who are on top, but 2 points are an extremely narrow advantage and Real should just focus on keep winning", concluded the former Real Madrid legend.
Sources: marca.com / espnfc.us / goal.com
About The Author
Related posts