Neymar set to miss his return to Barcelona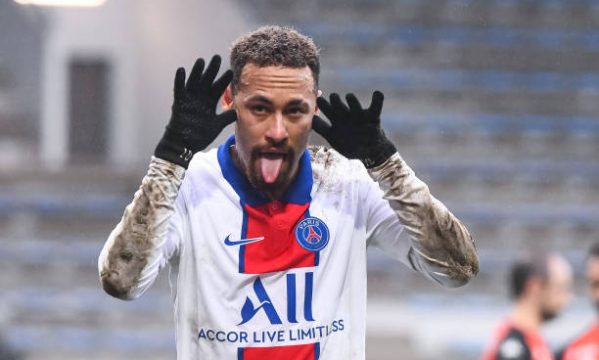 We're about to resume the UEFA Champions League action for the second half of the season, as next week the elimination stages begin with several blockbusters lined up for the delight of millions of fans. One of them, is certainly the matchup between FC Barcelona and PSG, as the first leg of this tie is scheduled for February 16. If you're fond of placing bets based on stats and historical data, you're probably predicting many goals in games between these two teams, just like most forebet tools suggest will happen…
The French champions go into this match labelled as favorites, but after last night's news about Neymar's injury, the odds could very well face a dramatic change in the next few days. This Wednesday, the Brazilian superstar helped his side beating Caen 1-0 in the French Cup, but in the process he ended up compromising his physical health, picking up a hamstring injury in his left leg.
At first, it didn't look like this injury could result in a very serious deal, but after today's medical reports came out, the worse scenario was confirmed and Neymar will be forced to sit out in PSG's upcoming challenges for the next 4 weeks, which obviously includes their 1st leg clash against Barcelona (Feb 16), and most likely also the second leg on March 10, set to be played in Paris at the Parc des Princes.
 
Neymar has been crucial for the Parisien side since he arrived at the club in 2017, and he already scored a total of 175 goals in the French league in 288 appearances. In the Champions League, his record is quite extraordinary as well, as he delivered 56 goals in 91 games played for PSG. Nevertheless, he is yet to accomplish what he wants the most, which is winning the Champions League trophy for PSG. The French club has never won this much-coveted competition and they are counting on Neymar to help them bringing this trophy to Paris for the first time in history.
Barcelona, just like PSG, are struggling with a few key injuries as well. One of the most important players sidelined for the upcoming Champions League tie is Ansu Fati, who is still recovering from a knee injury. He's not the only key piece msising in Barça's puzzle though, as Coutinho is also ruled out for the next weeks after suffering a meniscus injury right before the turn of the year. Finally, one of the team's most experienced players, Gerard PiquĂ©, is also recovering from a knee injury and should miss this first game against PSG. The Spanish centre back is expected to return to action later this month, so he should be fit for the return leg in Paris.
Last season, PSG went all the way to the final, but ended up losing in the final against Bayern Munich. Neymar got very close to hand the club the trophy, but the German side proved to be better that night. This season, the road to the final forced PSG to battle out with Barcelona right in the first round of the knockout stages, but if the French champions are capable of eliminating Barça without Neymar giving his contribute on the pitch, they'll certainly see their motivation levels increase a lot for the remaining challenges…
Sources: uefa.com / as.com
About The Author
Related posts