Barcelona 2-0 Athletic Bilbao: Neymar came in to decide the game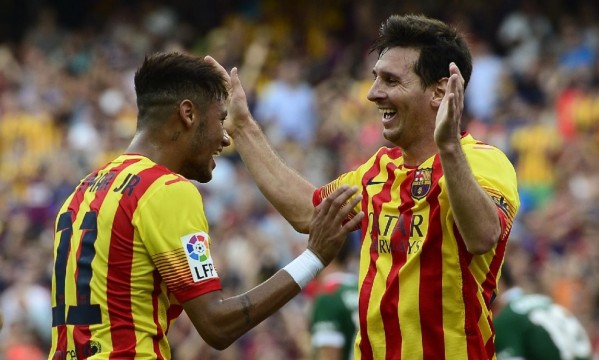 Full-time: Barcelona 2-0 Athletic Bilbao
Goals: Neymar¬†(79′, 84′)
Match date: September 13, 2014
Stadium: Camp Nou
Competition: La Liga
Barcelona line-up: Bravo, Montoya, Mascherano, Mathieu, Jordi Alba, Busquets, Iniesta, Rakitic, Pedro, Munir, Lionel Messi.
Barcelona extended their winning streak in La Liga to 3 games, after hosting and beating Athletic Bilbao by 2-0 this Saturday afternoon. Luis Enrique brought up a few rotations into the team by leaving the likes of Neymar, Piqué and Xavi on the bench for example, but the Blaugranas still found a way to breach into the visitors' fortress and at the end, they were fortunate enough to come out with an important win thanks to two late goals.
Athletic Bilao's resilience in this match was well-attested by the simple fact that Barcelona only managed to break the deadlock around the 79th minute of the game. Neymar came in as a substitute to replace Munir, the new young sensation at the Camp Nou, around the 62nd minute, but we still had to wait close to 20 minutes to see that change turning out to be fruitful. The first crack in Bilbao's defense happened when Busquets stole a ball from an opponent near the midfield line and allowed Messi to spot and assist Neymar for a 1-on-1 situation with the visitor's goalkeeper. The Brazilian star didn't waste such a great chance to put his side on the driving seat and easily finished it off with a subtle left-foot shot.
Just five minutes later, Neymar added a second goal to the scoreboard and just like it had happened in his opener, it was Lionel Messi who took care of opening up Atheltic Bilbao's defense before delivering him a great assist. The 22-year old controlled the low pass inside the box without panicking and took his time to slot the ball in past Athletic's goalkepeer, to make it 2-0 for Barça.
Barcelona will now prepare their UEFA Champions League debut against APOEL Nicosia, which will take place this Wednesday (September 17). You can watch Barcelona vs APOEL live on Sky Sports in the UK and on FOX Sports in the USA.
Sources: fcbarcelona.com / bbc.com
Watch the highlights video from Barcelona 2-0 Athletic Bilbao match:
Barcelona and Neymar match photos against Athletic Bilbao:
About The Author
Related posts