Barcelona 1-2 Real Madrid: MSN not inspired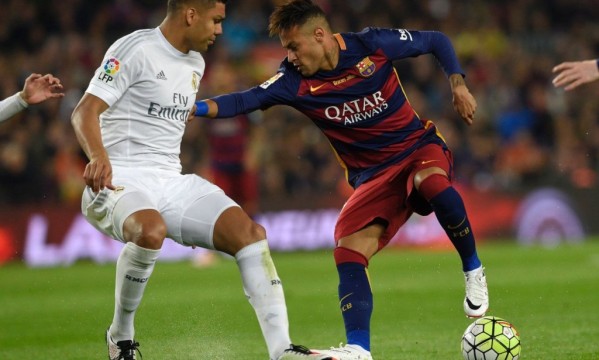 On a night of tribute to Cruyff in Camp Nou, Real Madrid took revenge of the defeat suffered against Barcelona, beating their rival 2-1 on Saturday. Merengues ended the unbeaten Barca momentum, which had lasted 39 matches. Benzema and Ronaldo scored for los Blancos, while Piqué scored for culés. The atmosphere of Camp Nou was unique and stadium was fully crowded with last tickets being sold by Livefootballtickets.com.
With this result, Barcelona continues in the lead of La Liga with 76 points. While Real Madrid remains in third with 69. In the next round, Barca will visit Real Sociedad, while the Merengues receive Eibar.
Barcelona controlled the first half, especially when it came to ball possession. The Catalans kept their style and tried to penetrate the good block formed by the Real Madrid defense. The home team had chances with Rakitic and Messi, but the clearest was Suárez who failed after a cross from Neymar.
Real Madrid was more focused on trying to counter-attack, but could not create a dangerous move. But still, with a Ronaldo shot and a Benzema volley, Bravo got spooked once. But as it was el clasico, it had to be controversial. Messi entered the area and was brought down by Sergio Ramos, but the referee waved play on, making players become even more exalted and yellow cards were distributed to both sides.
The match followed closed in the second half, however, the goals appeared. First, Piqué scored with a fine header and put Barcelona ahead. But Real Madrid did not let the rival celebrate and tied after a beautiful half-bike of Benzema. All led to believe it would end as a draw, until Sergio Ramos was sent off.
Advantage for Barca? None of that. Soon following, Ronaldo, killed the ball in the chest after a Bale's cross and shot to end Barcelona unbeaten record.
Not a night for MSN
Barcelona, with full force, and with the amazing MSN, pressed Real Madrid in the first half, but always stopped in the hands of Keylor Navas and on the strong marking of the team managed by Zinedine Zidane. The Catalan attacking trio did not make a good game, so that the first goal came from a cross and was scored by Piqué.
One of the best chances created by Messi, Suarez and Neymar, in the early minutes, ended up with Suarez, who, facing the goal, failed to score. Soon after, Rakitic, who made a good start, forced Navas, to jump in the right corner.
In the second half, the three were further absent from the match. Suarez and Neymar, in the middle of the final stage, swapped positions, but the Brazilian had even less ball on his feet and the Uruguayan, well marked, could not solve the game. Messi, further back in the field, to escape the marking, could got rid of one, but always had another opponent in front of him.
Sources: fcbarcelona.com / goal.com
About The Author
Related posts